From our Members
Ode to the Reps
Where are the reps?
We are put aside,
As only the government
Can now decide.
When we can run
Comps for the county,
With ladies back playing
To compete for a bounty.
We should be ready at our desks
And sitting on our bums,
Instead we are all stuck at home
Twiddling our thumbs.
The Planning Meetings were all done
We were keen to begin and run,
County comps were on their way
Until the crisis, and lockdown day.
Sheets all ready
Devoid of names,
so much to offer
But alas no games
No starter on the tee
No spotters on the course
No County flag to fly
To golf we had to say
Goodbye.
To Maureen and Karon from the East
And Gill and Sue from the North West
To Pam and Sheila from the South East
And Eleanor and Sue from the South West
We'll all be back, but don't know when
So keep yourself safe,
Until then.
Anonymous?

Just be careful because people are going crazy from being in lock down!
Actually I've just been talking about this with the microwave and toaster while drinking coffee and all of us agreed that things are getting bad.
I didn't mention anything to the washing machine as she puts a different spin on everything.
Certainly not to the fridge as he is acting cold and distant.
In the end the iron calmed me down as she said everything will be fine, no situation is too pressing.
The vacuum was very unsympathetic... told me to just suck it up, but the fan was more optimistic and hoped it would all soon blow over!
The toilet looked a bit flushed when I asked it's opinion and didn't say anything, but the door knob told me to get a grip.
The front door said I was unhinged and so the curtains told me to... yes, you guessed it... pull myself together.
HOPE EVERYONE IS SAFE AND WELL.

Hmmmm.
We are concerned about the iron though, thought she would have been very much for flattening the curve.
Don't listen to the washing machine, just a revolutionary.
Haven't discussed it with the cooker, she would just inflame the situation.
And don't tell the clothes horse, he'll hang you out to dry.

The first thing I'm going to do when everything is back to normal:
Drive straight to the course,
Walk onto the first tee,
Place the ball down,
Take a brief moment to appreciate being back in my happy place,
And let it rip...
The second thing I'm going to do is hit a provisional.

'Let's all drink to lockdown' by Jan Beaumont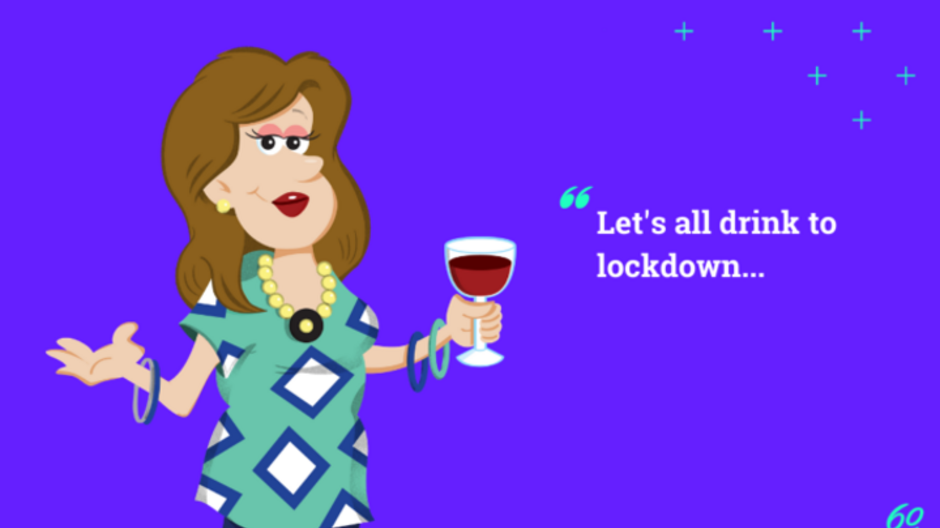 I'm normally a social girl
I love to meet my mates
But lately with the virus here
We can't go out the gates.
You see, we are the 'oldies' now
We need to stay inside
If they haven't seen us for a while
They'll think we've upped and died.
They'll never know the things we did
Before we got this old
There wasn't any Facebook
So not everything was told.
We may seem sweet old ladies
Who would never be uncouth
But we grew up in the 60s –
If you only knew the truth!
There was sex and drugs and rock 'n roll
The pill and miniskirts
We smoked, we drank, we partied
And were quite outrageous flirts.
Then we settled down, got married
And turned into someone's mum,
Somebody's wife, then nana,
Who on earth did we become?
We didn't mind the change of pace
Because our lives were full
But to bury us before we're dead
Is like red rag to a bull!
So here you find me stuck inside
For 4 weeks, maybe more
I finally found myself again
Then I had to close the door!
It didn't really bother me
I'd while away the hour
I'd bake for all the family
But I've got no bloody flour!
Now Netflix is just wonderful
I like a gutsy thriller
I'm swooning over Idris
Or some random sexy killer.
At least I've got a stash of booze
For when I'm being idle
There's wine and whiskey, even gin
If I'm feeling suicidal!
So let's all drink to lockdown
To recovery and health
And hope this bloody virus
Doesn't decimate our wealth.
We'll all get through the crisis
And be back to join our mates
Just hoping I'm not far too wide
To fit through the flaming gates!

​